The name Brittany Spaniel was a bit of a misnomer since this breed hunts more like pointers and is leggier than most spaniels. Now this versatile hunting dog is simply called a Brittany. They're recognizable by their boldly patterned coat and prized for their hunting skills and athleticism, as well as their upbeat personality. Your Brittany puppy is an athlete-in-training and will shine at dog sports like field trials, agility, dock diving and more. Whatever it is, he's up for it. If you're ready for an active, eager and energetic companion, the Brittany is for you.
Brittany Spaniel Puppies for Sale
Finding Brittany puppies for sale should be an easy task. They are medium sized, popular field and show dogs and one of the most versatile hunting breeds. Brittanys are good pointers, retrievers and have good dispositions. They love to please their masters, but if you use too much discipline, you may make them sulk more easily than many hunting breeds. This breed is very athletic and needs to have regular exercise to keep them from bouncing off the walls. They have personality plus and are easily socialized if given the opportunity. If you are seeking an energetic companion that you want to be able to have fun afield with – the Brittany may be for you. Brittany Spaniels need love and exercise on a regular basis!
Brittany Spaniel Breeders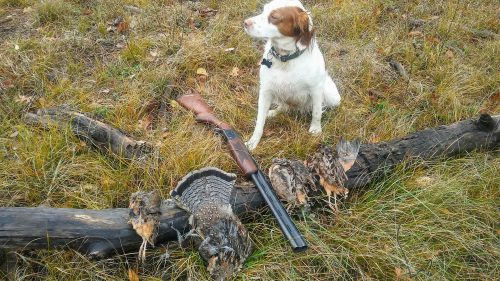 When seeking Brittany puppies for hunting, your best bet is to find a puppy from a breeder who is an avid hunter. You may want to ask the breeder to see the parent(s) of the dogs to see if they are the color you want. Brittanys come in several different colors such as orange and white, liver and white and tri color. Find out if the dogs are American or French Brittany. Ask if the pup's parents hunt, and what they hunt for.  Are there photos of the parents hunting? If you are going to purchase a Brittany puppy, you want to get what you prefer, because this breed may live 10-15 years. Contact Brittany Spaniel breeders prior to the purchasing of a Brittany Spaniel puppy to be able to sift through what they offer and what you prefer. Hunting with Brittany Spaniels is very enjoyable for all upland birds. Check out the mixed bag of Woodcock and Ruffed Grouse with "Lily," a fantastic pointing dog! Before you decide on a Brittany check out all the  Pointing Dogs.