Pointing Dogs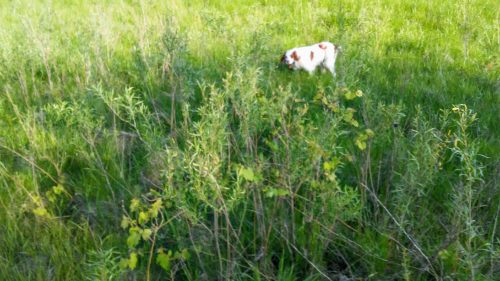 Pointing dogs are dogs that stop and aim their nose at upland birds such as ruffed grouse, quail, woodcock, sage grouse, pheasants and chukars etc. The breeds that point do so instinctively, and then the pointing instinct is honed to make them compatible with individualized training preferences. Once the dog is trained to point the quarry, the hunter can get in a position to flush the birds. These types of hunting dogs, often referred to as gun dogs, were selectively bred to point. The term gun dogs usually means these types of dogs that can be categorized as pointing dogs, flushing dogs or retrievers. (make each of these a separate page)
Dogs who are bred to point in this manner may develop pointing instincts at a very young age – sometimes as young as 2 months. Pointing dog pups develop their ability to point just as children develop their ability to do everyday tasks. The same philosophy of nurture and nature applies to dogs. Pointing by instinct is in their nature, but pups are nurtured through positive reinforcement techniques that pointing is something that is greatly approved of, thus helping create a desire to please. Pointing dogs, as well as all types of hunting dogs, love to please!
Training a Pointing Dog Puppy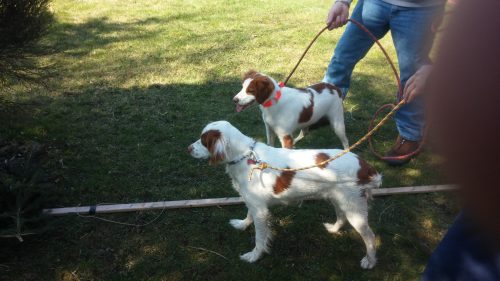 (make this a page with a read more)This is a fun task for many! Hunting dog enthusiasts can either train their own pup or have their dog sent to a professional trainer to accomplish their goals. Many hunters love training their own dogs because they derive pleasure from seeing the personal growth in the puppy they love. Others just want to get the job done because of lack of knowledge about training techniques or time factors. Read More…….Training Hunting Dog Puppies to Point
Pointing Breeds
These dogs have typically come from generations of dogs bred to point. Breeders who have pointing dogs don't like their dogs to flush the game. They prefer that the dog points the bird and then the human goes in to flush the bird into the air. Here is a list of just some of the pointing breeds: (make each of these breeds a link to another page)
English Pointer
English Setter
German Shorthaired Pointer
Vizsla
Gordon Setter
Irish Setter
Weimaraner
Wirehaired Pointing Griffon
In recent years Labrador Retrievers(link) have developed and been bred as pointing dogs. They are referred to as "Pointing Labs."  (link) Labs are traditionally thought of as retrieving dogs, but by a combination of nurture and nature, they are being trained with the goal of having them point upland birds. Having fun is the name of the game.