Buying a Lab Puppy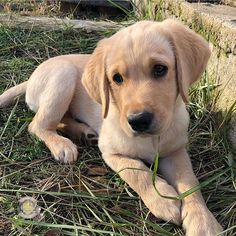 How can you not like a Lab Puppy? Buying a Lab puppy can be one of your most important decisions. They come in colors such as black, golden or chocolate and are some of the cutest of all dog breeds. Their feet are big, their tails wag non stop and they want to lick you to death. Don't let their kind spirits fool you though – they love to chew on things, as all puppies do. Either you learn to keep your shoes off the floor, or your puppy will have them for a treat. Are you sure you want a Lab? Check out the other retrievers before making your final decision. Do you want a retriever or just a flushing dog? Think hard about it before making a choice. What am I going to use this dog for the most?
Before laying out your cash for a new lab puppy, you may want to consider asking the breeder some key questions:
Do you breed for show or hunting? You may want a hunting dog, but if the parents are show dogs and their is no hunting stock in their lineage, you may not get what you want. If you are wanting a show dog and get a hunting pup, you may not get the conformation looks you desire. ,
Look the puppies over for fleas or other bugs. Sure, all dogs get fleas at times, but look at all the pups and see if their is an excess of bugs or other unhealthy issue with their fur. You will have to deal with fleas soon enough; taking them home with you at the onset is not what you want your money to be spent on.
Are the sire and dam registered? Will the puppies be registered? Ask to see papers and make sure they are in line. If you are considering breeding your dog somewhere down the line, you want to know up front the pup's heritage.
Where are the pups being raised?  Hopefully the pups are being raised in a healthy, clean environment – like somewhere inside the home. Pups being kept on chains are an absolute no-no. Ask to see where the pups are kept to see for yourself where they are bedding down.
How long have you been a breeder?  Find out if they are a one time breeder just wanting  to get a pup and having some fun, or are they running a mill?
Do you have health certificates?  Good Lab Breeders know the ins/outs of having hips and eyes checked. Having  documentation to verify this is a huge plus now and down the road.
Is there any history of other diseases common to Labrador Retrievers in the ancestry of the puppies? Unfortunately, many pedigree dogs have an array of inherited, genetically linked diseases. A good breeder will be happy to discuss this with you.
May I contact other people who have bought pups from you in the past? Every single breeder who has had more than one litter should want to give references – it helps give them credibility and integrity if everything is on the up and up.
Can I meet the parents? This is because you want to have some kind of idea of what your pup may look like in the future. 
We are sure their are many more questions you want to know, but these are some basics that can't go overlooked.
Hip Dysplasia in Labs
When purchasing a Lab puppy, you want to make sure you have determined that their hips are okay. According to Wikipedia, "Labradors are somewhat prone to hip and elbow dysplasia,[64] especially the larger dogs,[65] though not as much as some other breeds." Find out ahead of time if the Labrador breeder has had problems with his dogs in the past. If you are a hunter, make sure that the pup is from hunting and not show lines. When seeking a pointing lab, ask if the parents point and how many generations of their dogs have been pointing. Getting a good look at the parents is always helpful. Pictures can also give an indication of how the pups might turn out as well. Finding a reputable breeder to buy the dog from is the first step in the process of buying a lab pup. Sites such as Buy and Sell Hunting Dogs always have Labs for sale with complete contact info for the breeder.
Lab Breeders
Finding  Lab Breeders is crucial to finding the kind op Lab pup you want. Browsing sites like Buy and Sell Hunting Dogs and contacting several different breeders is the key to finding what you want. Do your homework and ask the right questions.  If you live in another state, how will you get the pup? Drive there?  Ship by plane? Who will pay the cost? Contact the AKC Breeder Referral System.  Most Lab breeders are honest and open, but if you have never met them, you want to use as many resources as possible to narrow your chances of getting what you prefer.