[Hunting with English Pointers]
The English Pointer is the most well-known hunting dog in the States. Its rich history goes back to at least the Civil War, possibly as far back as Colonial America. These dogs are so popular that a silhouette of the English Pointer has been the logo for the AKC since the late 1800s.
English Pointers are very good bird dogs. Nearly any kind of bird that you might want to hunt is good game for the English Pointer. These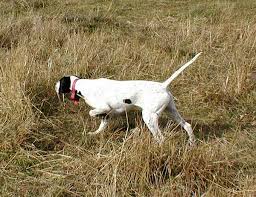 dogs can be somewhat hard headed as puppies. It is important to train them early to focus on the birds. It is also important to make sure that they are trained to stay with you and not run off.  This breed most always has a contending spot in all the major field trials. They are bouncy and exhibit their own independent style when hunting. It is always a joy to see them working a field or covert.
When looking for a pup ask the breeder if his dogs are field trial dogs or regular hunting dogs. Field trial dogs are many times bred and taught to range further. It depends on what kind of birds are being used in the trial. Field trials for Quail are done in more open fields than trials for Ruffed Grouse. Grouse are cover birds and dogs must stay in closer to be able to be found easier. Find the breeder that breeds dogs that fits your individual needs. To find a good English Pointer search the Browse Ads section on Buy and Sell Hunting Dogs.
Appearance
The English Pointer is a medium sized dog with a thick coat of fur that ranges from white to black, with some patches. As it covers ground quickly it looks like a burst of smoke. These dogs have a very attractive point that sets the breed apart, with a half moon tail and straight snout. One of the things most Pointer hunting enthusiasts like is the dogs statuesque pointing pose. Head and tail high with that intense look in its eyes.
Health
The English Pointer lives to be between 12 and 15 years old. They are generally in good health, although they can be prone to allergies. Other health problems that sometimes face this breed include hip dysplasia, progressive retinal atrophy, and epilepsy. You should take your dog to the vet routinely to screen for these and any other potential health problems.
Temperament
These dogs have a very good temperament. They are intelligent and can be trained, but they are also hard headed, so it is important to start working with the dogs early. You should start training no later than four months of age. These dogs are very loyal, but they like to run. You must watch your English Pointer closely because they will not stop when injured.